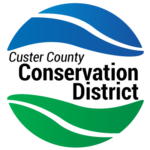 Mission: The mission of the Custer County Conservation District is to promote conservation of soil, water, and natural resources for residents and visitors now and in the future.
Department Function: The function of the Conservation District is to take available technical, financial, and educational resources, whatever their source, and focus or coordinate them so they meet the needs of the local land users.
Members:
Chairman: Dave Thom
Vice-Chairman: Paul Nettinga
Treasurer: Oonagh Wood
Supervisor: Tamarah Carter
Supervisor: Greg Neugebauer
Advisors: Stephenie Rittberger, Gladwin Paulsen, and Stuart Adrian
Office Manager: Mike Baldwin
NRCS District Conservationist: Justine Reid
---
Important Information & Upcoming Events:
Thinning grants: 
Cost-share funding is available for landowners interested in thinning on their property. Contact the office for additional information.  
Virtual workshops by the SD Department of Agriculture and Natural Resources: to register, email [email protected]
October 16, 2021 – Forest Carbon 101, 9:00 – 10:00 AM
November 13, 2021 – Carbon Markets, 9:00 – 10:00 AM
November 20, 2021 – Woodland Landowner Project Assistance Opportunities Workshop, 9:00 – 10:00 AM
December 4, 2021 – Tree Management & Carbon, 9:00 – 10:00 AM
December 18, 2021 – Carbon Products, 9:00 – 10:00 AM   
Arbor Day contests: 
The annual Arbor Day writing and poster contests will be open again next spring.  

Essay contest: open to all South Dakota 5th & 6th graders. Cash awards to top three contestants in the state. Entries are limited to 250 words or less. The central theme is "Why we celebrate Arbor Day in South Dakota, and why it is important to plant and care for trees across the state."
Poster contest: open to all South Dakota 5th graders. Each school can only submit one poster. The top 12 posters from across the state will be featured in the annual South Dakota Arbor Day Poster Contest Calendar. Cash prizes to top three posters in the state. This year's theme is "Trees are Terrific…and Energy Wise!".
Submission deadline for both contests is March 25. More information about these contests and additional rules are available here or by contacting the Conservation District office.
Speech contest: 
All South Dakota high school students are welcome to compete in the Resource Conservation Speech Contest. Next year's theme is "Rivers and Streams Benefit South Dakota." Scholarships totaling $2,300 will be awarded for 1st, 2nd, and 3rd place. Participants should contact our office by February so that we can schedule a local contest. Additional information is available here.
Scholarship available: 
Class of 2022 seniors living in Custer County – we will be offering two $500 scholarships this spring. Additional information coming soon…
Contact Information:
25363 US Hwy 385
Custer, SD 57730
(605) 673-5680
Email: [email protected]
Newsletters (coming soon)
---
Helpful Links
SD Natural Resources Conservation Service * SD Farm Service Agency * SD Conservation Districts * SD Game, Fish and Parks * Black Hills National Forest * Buffalo Gap National Grassland * Wind Cave National Park * Jewel Cave National Monument * Fall River Conservation District * Pennington Conservation District
SD Department of Agriculture & Natural Resources * SD Department of Transportation * SDSU Plant Science Department * SDSU Extension Service